Score big with accident protection for your MVP
Make pomi your defense against unexpected expenses!
Whether they've been playing for years or just starting out, a pomi policy complements your primary health insurance with added protection specifically for soccer related injuries.
Let's break down the game plan to help save you big!
Meet Carlos,
a 16-year old all star forward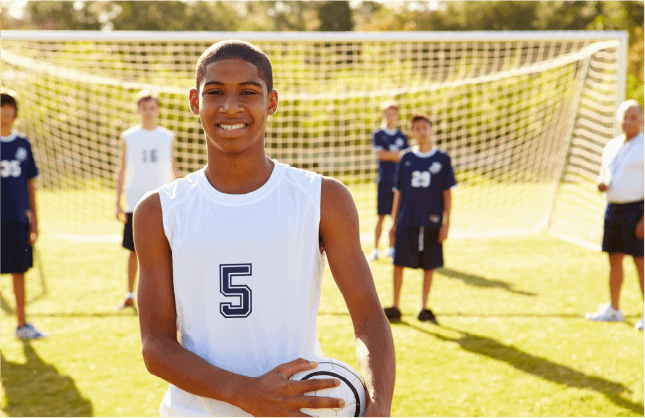 Carlos tries to dodge his opponent and badly sprained his knee. Even though rest and ice is recommended, the doctor bills can pile up.
  Potential
  pomi benefits
  over
$800
Total medical expenses:
$1,800
Total covered by primary
health insurance: $1,000
Amount you could owe
without pomi:
$800
Amount you could owe
with pomi: $0
*The claim scenario in this material is provided to illustrate a possible exposure you may face. The facts of any situation which may actually arise, and the terms, conditions, exclusions, and limitations in any policy in effect at that time, are unique.  Thus, no representation is made that any specific insurance coverage applies to the mentioned claim scenario.
Hey, soccer accidents happen!
Get pomi on your team, peace of mind protection could be a real game changer.
20%
of soccer teams will face concussions this season
50%
of female teams will face injury this season
What type of soccer injuries does pomi cover?
Glad you asked! We offer comprehensive protection against medical and dental injuries. Here are some of the most common soccer related injuries that we cover.
For as little as $25* per season, it pays to pomi!
You pay that much just for the team snacks – not to mention all the equipment. You'd do anything to help keep them safe, make sure pomi is on your checklist this season.
*based on 13 year old boy in Delaware playing baseball
You've got questions, we have answers
Peace of mind protection blog
Get youth sports planning & safety tips for your kids
Share your MVP with us!
Your child could be our next pomi Player of the Month! Tag us in a photo or video of your awesome athlete or fill out this form.  If chosen, your child could be featured on our website, newsletter and social channels plus earn some cool prizes and bragging rights!