Accident and health insurance that covers from A to Zen
What's pomi? We're an acronym for peace of mind insurance and we specialize in accident and health coverage for businesses, groups and organizations. We work with independent insurance brokers and agents so businesses and organizations can protect what matters most.  And since we're trusted by thousands of clients across the country, you can have confidence knowing we provide proper protection should an accident occur.  From volunteers to students, athletes and other participants, pomi's got you covered.  Please note, we currently do not offer coverage for families.
What is Group Accident Insurance?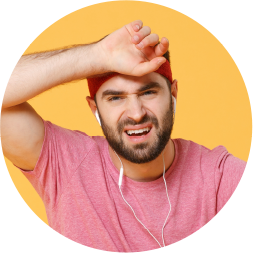 Glad you asked. Group Accident insurance is a policy businesses, groups, and organizations can purchase to help protect their participants and volunteers in the event of an injury. Just like workmen's comp insurance covers employees when accidents occur, an accident policy from pomi can help cover volunteers and participants. Take a look.
The power of pomi
One of Pete's gym members broke their leg after falling off the treadmill. Ouch. He went to the ER and even after using private health insurance, still had several thousands of dollars in out of pocket medical expenses. Lucky for him, and Pete, there was a group accident policy in place to help pick up the remaining expenses.
What could go wrong
Many times situations like these can result in lengthy and expensive lawsuits. And some organizations may end up putting an accident claim on their general liability policy which usually leads to a higher premium the following year. Who wants that?
  Potential
pomi benefits:
 $$$$
Peace of mind protection
Pete has peace of mind knowing all his gym members and volunteers are covered in the event of injury. His gym members have peace of mind knowing they won't have to pay a dime out of pocket to heal. And happy customers are loyal customers!
Group Accident coverage is an extra layer of protection – a little up front helps avoid a hefty price tag later. Plus, pomi is a no-fault policy, meaning no one has to admit fault. Simply submit a claim, we'll confirm the info and poof, it's paid. Pete's situation applies to a variety of industries.  Pomi provides accident protection for all volunteers and participants.
A volunteer slips and falls at your non-profit.  yep, pomi can cover that!
A football player gets injured at the big game.  yep, pomi can cover that!
A dancer gets hurt at the school recital.  yep, pomi can cover that!
You get the idea!  Help your clients protect their participants and volunteers – for one reasonable price.   
Hey, accidents happen!
That's why businesses need more than just liability coverage. Here's where you come in!
Help your clients understand the importance of A&H coverage with pomi. Affordable protection now. Less headaches later.
80%
of small businesses recognize they are exposed to risk in multiple areas
#1 
cause
of major injuries is slips, trips and falls
9.2
MILLION
children per year visit the ER for an unintentional injury
$935M
is spent on sports related er visits every year
PRIMARY MARKETS
Extreme Sports + Entertainment
WHO'S COVERED
Athletes
Fans
Coaches
Volunteers
Students
Chaperones
Members
Participants
WHAT'S COVERED
Sprains
Breaks
Concussions
Hospitalization
Doctor Visits
Urgent Care
Therapy
Labs + Tests
WHERE COVERED
On Premise
School + Campus
Practices + Games
Playgrounds
Events + Festivals
Travel To
Travel From
Special Trips
WE'RE AN A+
Not to brag, but we are on the Top AM Best rated list and we always bring our A game.
POWERED BY GREATNESS
Our parent company, Great American Insurance Company, has been a trusted name in the biz for years.
WE'RE REAL PEOPLE
(Not a bot!) pomi's always here for you with both digital convenience and human connection.
SIMPLE, EASY PROCESS
Plus, customizable policies fit for any unique client profile.